Residential Excavation Contractor in North Georgia
Based in North Georgia, we at Freshwater Septic are driven to provide the best excavation and site preparation services to our customers. We take care of every excavation, septic design, and septic installation as if your property were our own. We service our customers throughout North Georgia, especially in the cities of Dahlonega and Dawsonville.
Why Choose Freshwater Septic?
Freshwater Septic is a family-owned business started by Jeremy in 1989. The main aim of starting Freshwater Septic was to provide quality excavation services at an honest price to the community of North Georgia.
Since the establishment of Freshwater Septic, we have dedicated ourselves to learning what works and what doesn't so we can offer the best septic system services. We are experts in:
Land clearing
Grading
Excavation
Septic system design
Septic installation
We are driven by our mission to leave a smile on our clients' faces after completing a project. Contact us today for any of the above services.
Schedule a Service
Your Project, Start to Finish with Freshwater Septic
Below is an outline of how Freshwater Septic can handle your home build, renovation, or general construction project from start to finish.
STEP 1: Land Clearing
Land clearing removes debris, trees, boulders, and tree trumps from a property to improve the property, make way for construction projects, or develop the land.
Also known as lot clearing, land clearing can be done when you want to use your land for real estate, hunting, farming, or other purposes.
Land clearing involves enlarging the feel of your territory by removing any debris or trees from the land. Freshwater Septic offers land clearing by a team of experienced professionals.
STEP 2: Construction Site Grading
Site grading is an essential aspect of construction because it adjusts the area's slope before the construction commences. Site grading ensures a stronger foundation because it evens out the land's surface.
During site grading, the earth and soil are reshaped to become leveled and more stable than it was before. The process of grading involves digging and moving dirt from one point to another. Dirt is transferred from a higher section of the land to a lower area. Once this is done, our team smooths the ground to create a secure building foundation. Site grading has numerous benefits, including:
Easier use for outdoor projects
Reduced soil erosion
Reduced potential for home damage
Surface runoff
Healthier plants and landscape
We offer site grading to help you eliminate future risks of water problems and prepare your land for any landscaping installations like ornamental plantings.
STEP 3: Excavation
Excavation is done when we create building foundations during construction. The processes involved in excavation include:
Digging
Dredging
Developing the site
During excavation, the excavation contractors drill shafts and also dig the foundation for the building to be constructed. It is advisable to have excavation done way before the construction, so it doesn't affect the construction process. Excavation is usually done before paving the sidewalks and driveways. Do not hesitate to contact us for a quote if you need excavation services.
Besides being done on new works, excavation can also be done to clear snow during winter.
At Freshwater Septic, we offer excavation services to our clients, who may also need to cut our driveways, gutters, curbs, and trenches. Also septic tank experts, our excavators work to prepare lands for septic systems if needed.
Schedule a Service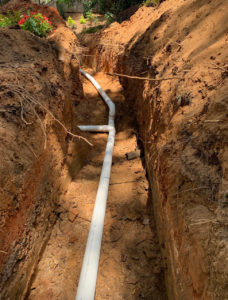 STEP 4: Septic System Installation
Site preparation for septic system installation is one of the services we offer. Septic system installation is done to provide residential and commercial areas with an individualized wastewater treatment option. The system is made up of an underground septic tank made of plastic, fiberglass, or concrete, and it is responsible for treating and getting rid of sewage.
There are many types of septic tank systems. These include:
Conventional septic system — These are the most affordable septic tanks. This type of septic tank system uses gravity to move sewage into the septic tank. A conventional septic system relies on natural-occurring bacteria to break down waste.
Alternative septic system — Uses gravity to move sewage into the tank like a conventional septic tank system. However, instead of using bacteria to break down this waste, it uses oxygen. Alternative septic systems are the most expensive septic tank systems, with an average price of $12,000.
Engineered septic systems — These are the most complex septic tank systems. Usually done on buildings located on uphill slopes, engineered septic systems do not rely on gravity. Instead, the liquid waste is pumped into the leach field to distribute it throughout the land.
Keep in mind that your septic tank needs to be cleaned and pumped every five years. This helps prevent solid waste from building up and leaking.
We recommend getting your septic system site prep done by an expert like Freshwater Septic, because we have years of experience and knowledge necessary for high-quality work. Site preparation by an experienced septic design and installation company can help reduce the overall cost of your project, as we keep in mind the "big picture" of your project from start to finish, rather than coming in late in the process with fewer options to create the ideal septic system design.
For this reason, you should let Freshwater Septic handle your whole project, from grading and excavation, to septic system installation. Due to our vast knowledge and dedication to our work, you can expect far better quality of work from us than from general construction contractors.
You can contact us to learn more about our services and have your questions answered.
Schedule a Service