Septic Tank Installation Services in Dahlonega and Dawsonville, GA
A septic tank is a basic need for every home. The average lifespan of a septic tank is 30 years. However, you need the best installation services and proper maintenance for it to last this long, or longer. If you reside in Dahlonega, Dawsonville, and North Georgia, Freshwater Septic has got your back. We provide the best septic tank installation services in our area.
Since our first introduction to wastewater in 1989, we have been on a consistent journey of learning and satisfying our clients. We use the latest technological equipment, and we keep up with the latest industry trends.
We have highly-trained technicians with plenty of expertise and experience to handle all of your needs. From residential to commercial and industrial septic tank installation services, you can trust us to complete the job on time.
We serve our customers with utmost honesty, integrity and quality services. For us it's never about how much profit we can make, but how satisfied we can make our customers.
Schedule a Service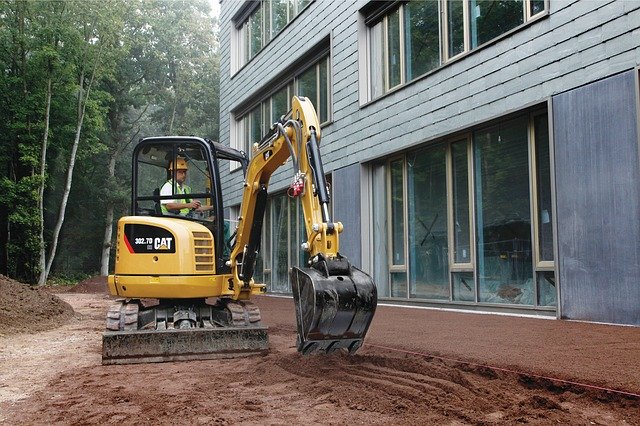 What is a Septic Tank, and How Does it Work?
Buried beneath your property, a septic tank is a reservoir made of concrete, plastic, or strong plastic, and is used to eliminate effluent waste and solids. A septic tank is used as an alternative to the city's wastewater treatment sewer lines.
A septic tank receives waste products from your home and sorts them into 3 parts; sludge, liquids, and scum. While the solid waste decomposes, the liquid is transferred into a separate tank where it is reused. Different septic tanks have different components depending on their specifications.
Septic System Installation: The Process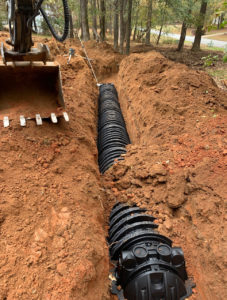 The process of fitting your home with a new septic tank can take some time. However, with the aid of experienced professionals like us, you can get one installed in as little time as possible. We follow the steps below when completing a Septic System Installation:
1. Percolation Test and Inspection
A percolation test refers to the soil's ability to allow water to drain through. In Northern Georgia, Dahlonega, and Dawsonville, the law requires that a percolation test must be done before a septic tank is installed in your property.
With the presence of a health department health official, Freshwater Septic will perform this test on your soil. The regulations also state that a percolation test must be done every 5 years as a way of maintaining the septic tank system.
2. Building Permit Application
If your soil does not pass the percolation test, do not worry, as there are alternative solutions to septic tanks. If your soil passes the percolation test, you will have to obtain a building permit before you can start the installation process.
The process of applying for a permit is unique for everybody. However, you can get started at the Department of Health and Environmental Control.
3. Excavation and Installation
After acquiring your permit, you are good to start the installation process. Heavy equipment is needed to excavate the large chunks of soils to pave way for the installation of a septic tank. You will, therefore, need to sort your budget well to complete this process.
If you are installing a septic tank in a new home, you will have to come up with a schedule that will not interfere with the other construction activities. We recommend you work with us from start to finish – excavation to septic installation – if possible. This will allow us to build you the ideal septic system and avoid the potentially costly mistakes of a general construction contractor, who knows little to nothing about septic systems.
4. The Septic Tank System Design
The most common types of septic tank systems include:
Standard septic tank
Mound system
Conventional septic system
These septic tanks can be made from fiberglass, plastic, steel, and concrete.
Schedule a Service
Septic System Maintenance Tips
After installing a septic tank in your home, the next step is to conduct maintenance practices regularly. This increases the tank's durability.
The best practices to take care of your septic system include:
Pump your septic tank correctly
Be water-wise
Always direct the water in your home and roof drains away from the drainfield
Always keep the septic tank lids closed
Do not use your toilet as a trash can. Avoid flushing wastes such as cooking oil/ grease, feminine hygiene products, cigarette butts, coffee grounds, cat litter, dental floss, and photographic solutions. Only flush tissue paper.
Be mindful of what you dispose of through your sink. The septic tank is designed to have living organisms digesting and treating the household wastes. If you pour toxins through your sink, the organisms will die and your septic tank system won't operate normally.
Maintain your drainfield regularly.
Septic tank repairs are normal. You can never be careful enough, some problems are beyond your control. Even the strongest materials degrade and nature can always push its course against your will.
The most common reasons for repair include:
Broken pipes
Leaky tanks
Damaged drain field
Broken baffles
For septic tank repairs services, our professionals at Freshwater Septic have got your back. We will evaluate and diagnose any septic tank problem.
You can contact us for a free quote.
Schedule a Service